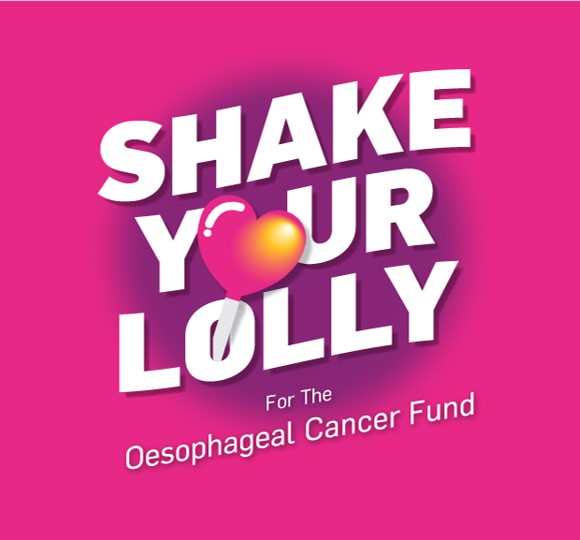 OCF Lollipop Month!
💓 Shake your Lolly for Lollipop Month! 💓
The Oesophageal Cancer Fund (OCF) is asking the public to 'Shake your Lolly' for Lollipop Month this April to raise a vital €400,000 for cancer research and spread awareness of the early symptoms of this difficult cancer. These symptoms include difficulty swallowing, persistent acid indigestion, heartburn and reflux.
In 2021, due to Covid restrictions the charity's iconic Lollipop Day fundraiser, which is marking its 20th anniversary, can't happen in its normal on-street format and is switching instead to a month-long campaign of fundraising and awareness building.
We are getting the 'shaking' started to help spread awareness and raise vital funds for Oesophageal Cancer. We have joined with the OCF to get the 'shaking' started by making our delicious 'Fruity Juice' the official Lollipop Month Shake and donating 100% of all profits of it in April to the OCF.
You can buy The Fruity Juice here 💓
We know that approximately 70% of patients experience these symptoms for 3 months prior to contacting their GP.  A real concern is that the Covid-19 Pandemic may worsen this figure as so many are reluctant to go to their GP and hospital services for non-Covid symptoms.
In 2021, due to Covid restrictions the charity's iconic Lollipop Day fundraiser, which is marking its 20th anniversary, can't happen in its normal on-street format and is switching instead to a month-long campaign of fundraising and awareness building. Lollipop Day would traditionally raise approximately €400k through public donations, which is used to facilitate pioneering research and to develop innovative treatments for early-stage Oesophageal Cancer patients.
Public generosity to OCF fundraising over the past two decades has helped enormously in the fight against Oesophageal Cancer with survival rates showing a 50% improvement in Ireland, positioning us fourth internationally in terms of survivorship.  However Irish Oesophageal Cancer rates remain among the highest in Europe, with approximately 450 new diagnoses of this aggressive cancer each year.
For Lollipop Month, the public is being asked to 'Shake your Lolly' and to donate as little or as much as they can to help raise the much-needed €400k.  Even a €5 donation helps make a difference, as it's the culmination of thousands of €5 donations that help give hope to patients nationwide.
Enthusiastically putting the 'fun' in fundraising, supporters can choose challenges like a sea swim, or uniting for a workplace 'Pink it Up' Zoom day.  It could be as simple as popping on red lipstick to support 'Lollipop Lips', tagging 10 friends on social media to do the same, or creating your own fundraiser, like Paul O'Grady's 200km 'Row for Dough' initiative, which has already raised an amazing €7k.
The €400k goal in Lollipop Month covers support for a number of projects.  A key initiative targeting prevention and early diagnosis of Oesophageal Cancer is The National Barrett's Oesophagus Registry and Biobank, Ireland's unique data system which ensures that patients identified as at risk, undergo ongoing monitoring and surveillance.
Barrett's Oesophagus is a common condition and a key pre-indicator of potential Oesophageal Cancer. The Barrett's Registry, established in 2010, now links six hospitals across Ireland and currently tracks the progress of approx. 8,000 at-risk patients.
Noelle Ryan, CEO of the Oesophageal Cancer Fund said:
"This is the first time in 20 years that we can't take to the streets for Lollipop Day.  It's heart-breaking but we are hoping that we will still get the support and generosity of the public through our online 'Shake your Lolly' campaign.  We receive no other funding so the public's support is everything.  Their help has enabled the OCF to achieve so much and have such a positive impact on the Oesophageal Cancer landscape in Ireland.  We know however that we can't afford to be complacent with this aggressive cancer and we hope the public will get behind us this April, so we can continue to fund this life-saving research."
Professor John V Reynolds, National Lead for Oesophageal and Gastric Cancer, based at St James' Hospital, Dublin said:
"The OCF has done extraordinary work in raising awareness of Oesophageal Cancer, in supporting clinical and scientific research, and clinical trials, as well as supporting patients and their families.  Some interesting current research is assessing the impact of the pandemic on Oesophageal Cancer presentation and outcomes, we are concerned that this has suffered, as it has for so many different cancers.  
Another interesting study part funded by the OCF is an international clinical trial led from Ireland that may establish a new standard of care for treating Oesophageal Cancer. From a low base due to it being such a difficult cancer, the survival from Oesophageal Cancer has thankfully doubled in the last 20 years, so real progress is possible. Now, more than ever, on the 20th anniversary of the OCF, and in the midst of these unique times where achieving optimum cancer care faces real challenges, I am asking the public to support the OCF in their wonderful mission to help conquer such a difficult disease."
Professor Jacintha O'Sullivan, Professor in Transitional Oncology at St James' Hospital said:
'To better understand the biology that drives disease progression, key important infrastructures are needed.  The OCF has funded the establishment of a national Barrett's Registry and Biobank to allow us to answer important clinical and scientific questions. With the generous consent of patients to donate samples to our Barrett's biobank, scientists and clinicians conduct research to understand the biology of this disease, to identify key markers that could help predict who will progress and who will not and the discovery of new treatments. 
Our scientific data produced from the use of samples in our biobank are linked closely with the clinical data from the national registry. These 2 infrastructures funded by OCF play a pivotal role in progressing knowledge and new discoveries for this disease. I hope the public will get behind Lollipop Month and continue to support this vital work well into the future to benefit patients."
To find out more about the OCF, donate or get involved in the 'Shake your Lolly' initiative visit www.ocf.ie and follow them on social @oesophagealcancerfund #ShakeYourLolly
Registered Charity No. 14542